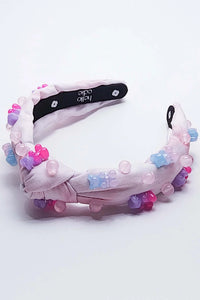 This Kids Tie Dye Gummy Bear Knot from Hello Edie is the perfect accessory for any little one. The knot style headband is embellished with gummy bear charms and comes in a slim band.
This unique and stylish headband is perfect for any occasion. Whether it's a birthday party, a family gathering, or just a day out, this headband will make your little one stand out from the crowd.
The Kids Tie Dye Gummy Bear Knot is made from high-quality materials and is sure to last. It's the perfect way to add a touch of fun and style to any outfit.